Fluid Spaces

สัมผัสประสบการณ์ใหม่ กับคอนเซปการออกแบบแห่งอนาคตที่ HAFELE Design Studio ได้แล้ววันนี้

Fluid Spaces

สัมผัสประสบการณ์ใหม่ กับคอนเซปการออกแบบแห่งอนาคตที่ HAFELE Design Studio ได้แล้ววันนี้
Hawa Experience at HAFELE Design Studio
The boundaries between working and living, public and private lives have started to blur in today's hectic, unpredictable world. Now, multi-functional, adaptable spaces are more in demand than ever — living spaces that can be transformed into a bedroom, office, or living room at any time to fit the ever-changing needs of its inhabitants.
Hawa Singapore brings to you best-in-class sliding solutions for fluid spaces in Singapore. Our newly refurbished showroom located at houses all of our innovative solutions — book your tour with us today and explore the many creative applications of Hawa's sliding solutions.
Schedule a tour at the Hawa Experience Centre
Alternatively, get in touch with us
If you are unable to find a suitable time slot to visit the Experience Centre, or if you have other questions, simply enquire with us by clicking on the button below and we will get in touch shortly.
Contact us
Get the full experience with Hawa
Visitors learning about the possibilities of Hawa's sliding solutions.
Our expert from Hawa sharing about the technical details of a Hawa product.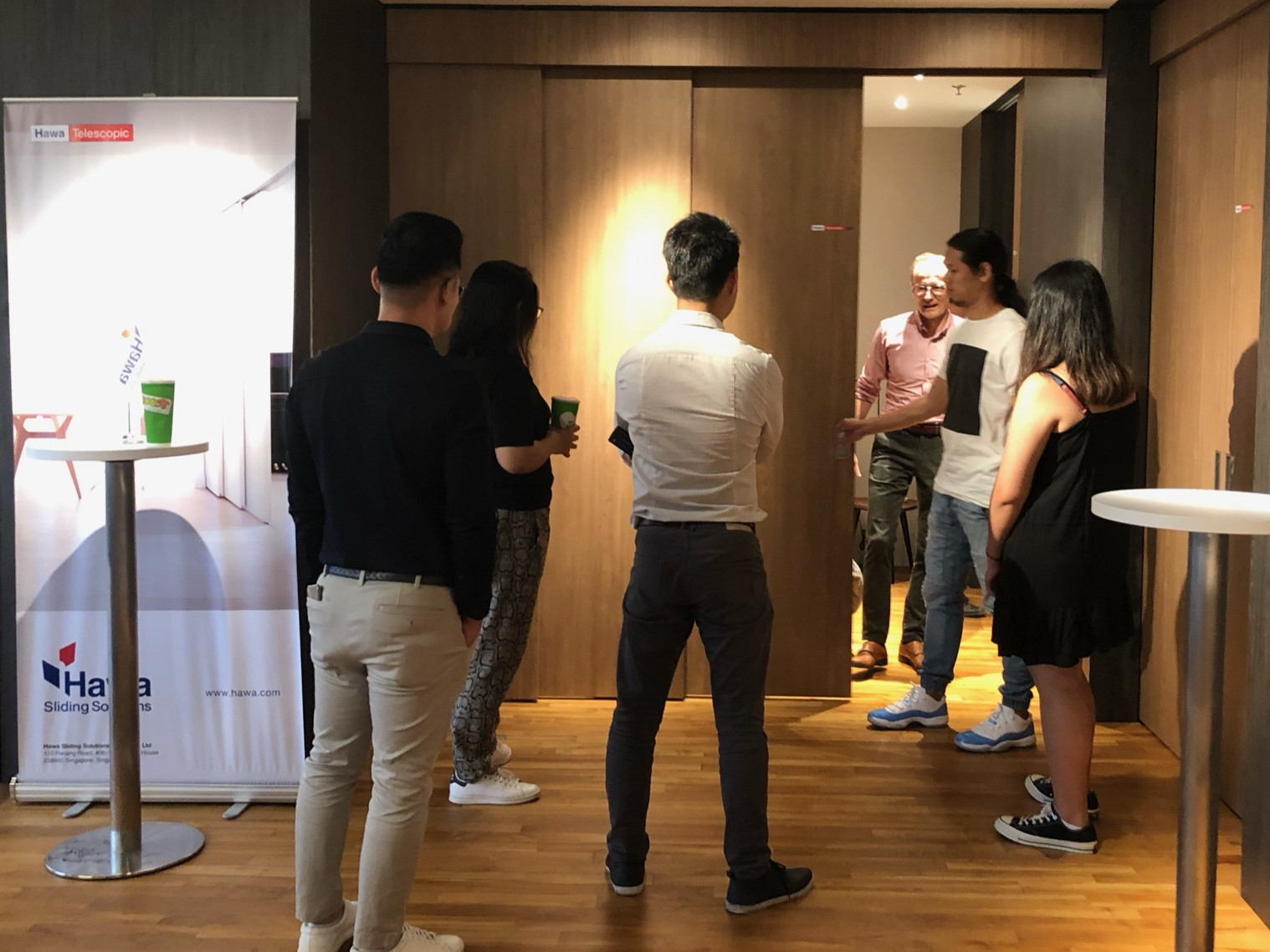 Visitors getting a first-hand experience of the smooth and silent movement of Hawa sliding systems.
Here's what our visitors have to say about their experience
Fluid Spaces in Singapore
The trend of multi-functional, highly dynamic spaces has been around for a while: and its need has become even more pronounced in recent times.
Spaces today need to be more versatile than ever— there is an increasing trend for physical spaces to reflect the versatile, ever-changing nature of their inhabitants, turning a single space into a multi-function premise. Find out more at the Hawa Singapore Experience Centre.
"People are more aware now and lifestyles are changing, and these lifestyles simple require a different spatial environment."
- Raphael Gielgen, Head of Research and Trend Scouting, Vitra
Take a look at how multi-functional, adaptable spaces can be achieved with Hawa's sliding solutions in Kim and David's apartment down below.
Featured Fluid Spaces solutions in the Hawa Experience Centre
Hawa Concepta
Conceal pocket kitchens and mini offices in hotel rooms with a single push or pull. The Hawa Concepta can be configured into 2, 3, or 4 door systems that allow full access to the entire cabinet width, hiding or revealing living areas as and when it's needed.
Hawa Centrefold
Can be used with no bottom track for a seamless finish. The Hawa Centrefold is for wooden or glass accordion walls, creating movable walls that divide and rejoin rooms when needed in offices, homes, and more.
Hawa Telescopic
Simultaneously slide multiple doors apart with one movement. The Hawa Telescopic creates larger access entryways and open can create larger work or living spaces with a space-saving, door pocket solution.
Due to Covid-19, measures such as safe distancing and capacity limit will be observed to ensure a safe and pleasant experience for all our guests.